Guidance: Pricing Optimization Software
Get precise, gain control and grow your business with price optimization software built on cutting-edge AI.
Prescriptive Pricing Optimization Guidance Powers Every Sale
An effective pricing solution requires a holistic approach to personalizing prices for the unique conditions of each buying scenario. Now you can deliver tailored negotiation price guidance to sales that incorporates your customer's individual willingness-to-pay while also optimizing prices to changing demand conditions for self-serve channels.
When you have insight into what buyers value, what they prioritize, and how that changes in a dynamic market, pricing of your goods and services can be optimized to maximize the potential of every sales opportunity. Proactively pricing for the unique conditions of each of these selling scenarios can protect and grow sales without sacrificing profitability.
PROS Guidance pricing software leverages powerful AI to unlock big increases in win rates and maximized value.
The result? Extraordinary gains. Customers often quickly achieve 100-300 basis points in margin improvement.
Ignite Your Journey to Sustainable, Profitable Growth
Your world spins fast and customers won't wait. Guidance gives your sales teams and partners the pre-approved price segmentation they need to accelerate win rates and reduce sales cycle times.
Your teams can now adjust and refine their optimal pricing strategy on the fly by simply initiating an analysis directly from the pricing software as needed. Curious to see the potential of a new strategy? Deploy it! PROS pricing software is that easy.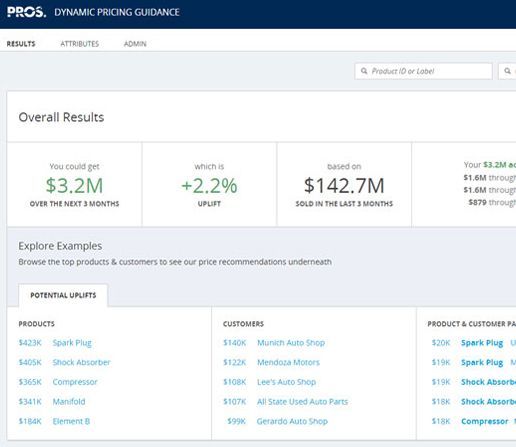 Optimize Prices for Digital, Self-Serve Channels
Buyers are shifting more of their purchasing wallet share online and are looking for the vendor that can help them to execute a fast, easy purchase. A realistic, market-relevant price is essential to that fast purchase decision.
Equip your business with the power to deliver the right price and capture the market share shifting to online channels. With the latest PROS AI, our model leverages insights into the expected price-volume relationship for any product, and recommends a singular price optimized for changing demand and personalized for each market segment.
Up your pricing game with prescriptive pricing guidance that gives your business a competitive advantage. With Guidance helping you manage your omnichannel selling strategies at scale, you'll always feel confident that your prices are defensible, fair, and working for you.
Instantly Identify Revenue Leaks and Recovery Potential
Discover revenue potential through more precise pricing software. And precision is key. Science-based price segmentation provides a data-driven approach to recovering revenue leaks lost through undisciplined pricing.
Now you can justify new optimal pricing recommendations with simple, easy-to-access views of the peer prices that support your quotes.
See the Science for Yourself
Guidance isn't fragile science developed in a back office and delivered with a "Do Not Touch" label. Our price optimization solution is purpose-built for business and delivered with controls and windows that allow you to interact with output and modify your way intuitively to the precise recommendations you need to win. PROS pricing software is designed to be customizable so that it works with the systems and processes your business already has in place.  
Ensure Pricing Stays Up-to-Date with Dependable Integration
To deliver the dynamically personalized offers and optimized pricing that best meets your customers' needs, your sales intelligence and pricing solutions often require input from multiple data sources.
The integration of internal and external data sources, manipulation of structured and unstructured data, and the continual maintenance of these integration points can be an ongoing challenge for IT departments. With PROS Integrate, businesses looking to leverage their data resources to deepen their customer engagement in a meaningful way can have confidence that their integration is done right, done quickly, and continuously maintained.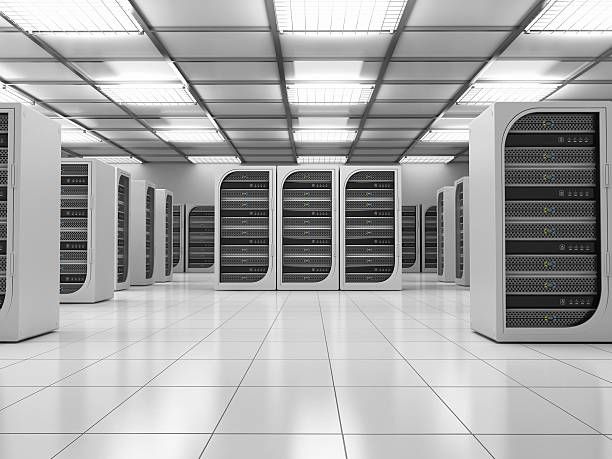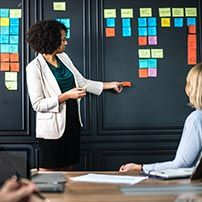 Precise, Self-Serve Pricing From Your Quoting Platforms
Guidance delivers price envelope recommendations for every unique prospect. That means your sales teams can confidently balance maximized value with customer willingness-to-pay.
With pre-approved prices for your partners and sellers, you eliminate one-sixth of the sales cycle time wasted on seeking approvals. The digital economy demands immediacy. PROS pricing software enables rapid responses over negotiation.
Continuously Adapt and Improve – At Your Own Pace
Now that you can move easily from segmentation analysis and evaluation to price guidance delivery, refining your price optimization strategy is as easy as asking: When?
With Guidance, you don't have to sacrifice your price strategy through the norms of business change, such as mergers, acquisitions or reorganized product lines. Guidance adapts to your circumstances so you achieve sustainable, profitable growth, no matter what.
One Trillion Transactions a Year
The PROS Cloud is delivered globally under a Software-as-a-Service (SaaS) model hosted on Microsoft Azure. Housed in SOC2-certified data centers, it has the security and availability features you demand of a mission-critical application, including disaster recovery centers.
More about PROS Trust & Security
More about PROS Cloud
The PROS Cloud and Security
Beyond Secure
Compliant with GDPR, SSAE16 SOC 2 Type 2, ISO 27001 and Cloud Security Alliance's Cloud Control Matrix.
Built to Scale
Configured with elasticity to meet your performance requirements, architected for high availability.
Seamlessly Integrated
Integrated to work within heavily customized enterprise business systems, such as ERPs and CRMs.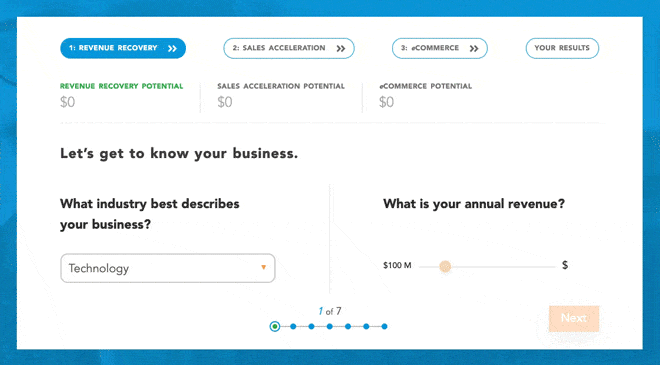 Build the Case for Pricing Improvement
Take the pricing assessment
Calculate your company potential revenue uplift
Generate a custom business case, ready to present to your executive team
Get Started Now