Airline Real-Time Dynamic Pricing
Get accurate. Get real. Increase conversions, manage bookings and reduce revenue leaks with real-time availability and dynamic airline pricing science.
Launch the Total Travel Experience
Scalable and accurate availability across all channels
Keep the rules, fares and other data in sync with airline dynamic pricing science. Real-Time Dynamic Pricing computes seat availability in the moment and dynamically applies biases – or strategies – so airlines can enable offer optimization. That means an instant increase in revenue.
Your airline's pricing strategy can now include consistent, real-time offers across all channels while protecting revenue from inventory spoilage. And it's only up from here.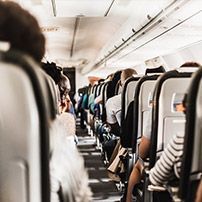 Collaborate Availability With Interline and Code-Share Partners
Conduct joint evaluation of code-share or interline itineraries with bid price sharing.
Present Consistent, Real-Time Dynamic Pricing Offers Across All Channels Dynamically
Customers are elastic. Our real-time airline dynamic pricing calculations get it. That's why they deploy prices in multiple data centers to facilitate fares, bid prices and reference data for any instance in any context.
Eliminate Sell Discrepancies With a Single Source of Availability Truth
Dynamic ticket pricing gives airlines a smart central station that uses analytics to keep seats filled and revenues rising.
Apply Industry-Best Availability Strategies
Your sales channels are unique. You should be able to control availability and influence pricing for each. Now you can strategize for specific market segments, market conditions and passenger attributes with powerful, science-driven data.
Editions Fresh for Today
RTDP Ultimate, the latest edition within the PROS Real-Time Dynamic Pricing Suite, uses dynamic pricing science to provide airlines with greater price flexibility and control across all channels. That means real-time optimized pricing and potential revenue lifts of 1.5 percent or higher.
See which edition is right for you
PROS Real Time Dynamic Pricing is your launchpad to becoming an airline retailer with smart scalable tools that optimize seat availability and pricing for every flight.
But no two carriers are the same. Discover the editions and add-ons that precision-fit RTDP to your specific challenges.
Eine Billion Transaktionen pro Jahr.
Die PROS-Cloud wird weltweit im Rahmen eines von Microsoft Azure gehosteten SaaS-Modells (Software-as-a-Service) bereitgestellt. Ihre Infrastruktur ist in SOC2-zertifizierten Rechenzentren untergebracht und bietet die Sicherheits- und Verfügbarkeitsfunktionen, die Sie von einer geschäftskritischen Anwendung erwarten – inklusive Disaster-Recovery-Zentren.
Mehr über Sicherheit bei PROS
Mehr über die PROS-Cloud
Die PROS-Cloud und Sicherheit
Mehr als sicher
Konform mit der DSGVO, SSAE16 SOC 2 Typ 2, ISO 27001 und der Cloud Control Matrix der Cloud Security Alliance.
Skalierbar
Flexibel konfiguriert, um Ihre Leistungsanforderungen zu erfüllen, und für eine hohe Verfügbarkeit konzipiert.
Nahtlos integrierbar
Lässt sich in hoch individualisierte Unternehmenssysteme wie ERPs und CRMs integrieren.
Airline Real-Time Dynamic Pricing is part of the PROS Platform for Travel,
a unified offer and order management platform built for an omnichannel world.
Airlines today rely on the PROS Platform for Travel to optimize revenue and costs while improving the customer experience across shopping, booking and managing air travel across all channels.
Learn how you can make every shopping and selling experience more personalized and every transaction more profitable.
Explore the PROS Platform for Travel
Sehen Sie sich die PROS-Lösungen in Aktion an
Wir freuen uns darauf, Sie zu treffen und Ihre Fragen zu den PROS-Lösungen zu beantworten.
Demo anfordern